Couples always ask me where I went for my honeymoon. For my honeymoon a couple years back, I went to Europe and one of my favourite stops along the way was to Cinque Terre, Italy. We were looking for a spot to relax and enjoy the scenery after stops in the bustling cities of Paris, Florence and Venice. I found it one day on a travel blog and was taken back at how beautiful it was. I knew I had to go! Keep reading my honeymoon travel guide for a glimpse of what you will see in Cinque Terre, Italy's most remote and romantic stretch of the Italian Riviera. If you are looking for beautiful views, a local vibe and recreational hiking, this is a great honeymoon possibility!

No, this isn't from a magazine. This is actually the view you will see when you are there!
Honeymoon in Cinque Terre, Italy – Overview
This stretch of the Italian Riviera is made up of five (cinque) small, traffic-free and stunning fishing towns, each with their own beauty and characteristics. Each village has been carved into its own nook in the mountain overlooking the waters. Enjoy the villages, swimming, hiking and evening romance when the skies light up for the sunset. Each village is connected by a hiking trail along the mountain (a must do!) and by a train that runs through.
Travel expert, Rick Steve, describes the five towns:
Vernazza: The region's gem, crowned with a ruined castle above and a lively waterfront cradling a natural harbor below.
Monterosso: Resorty, flat, and spread out, with a charming old town, a modern new town, and the region's best beaches, swimming, and nightlife.
Riomaggiore: The biggest and most workaday of the five villages.
Manarola: Waterfront village dotted with a picturesque mix of shops, houses, and vineyards.
Corniglia: Quiet hilltop village known for its cooler temperatures (it's the only one of the five villages not on the coast), few tourists, and tradition of fine wines.

Because the location is remote, it takes a little effort to get there. A plane and a train ride later, we arrive in Cinque Terre and this is our view right off the train. It was breathtaking.
Honeymoon in Cinque Terre, Italy – Where to stay
Since each village is different, pick a village that suits your pace for what you are hoping for in the trip. We stayed in Monterosso as it offered the most variety in accommodations that suited our taste. You won't find many giant luxury resorts here, mostly boutique hotels and bed and breakfasts with charming Italian hosts. Look for accommodations that suit your expectations for the honeymoon, whether that is ultimate comfort, beautiful views or local flavour. Here are a few options:

For ultimate comfort, enjoy Hotel Porto Roca.

If you like to live like a local, consider the centrally located La Colonnina Hotel (this is where I stayed).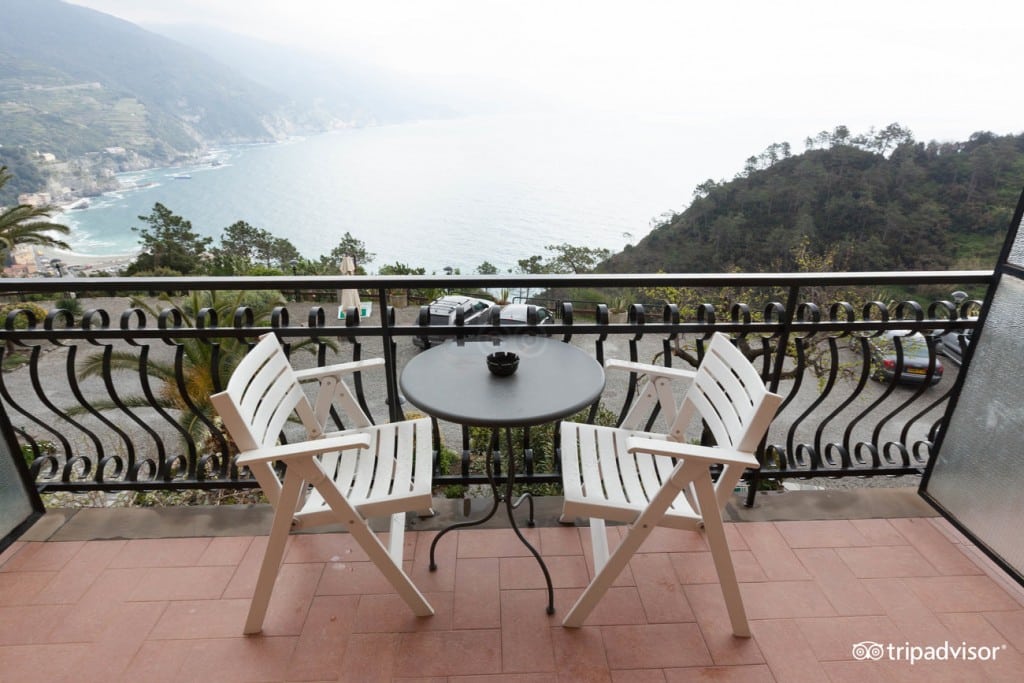 For a view, snag a double room with seaview from Suisse Hotel Bellevue.
Honeymoon in Cinque Terre, Italy – Hiking and the Views
There isn't much to do or see in Cinque Terre, except Cinque Terre itself. You can hike (or train) to the five villages and to explore them. I highly recommended the hike! Each village has a different characteristic to them. The hiking is fairly recreational, though you will work up a small sweat if the sun is out. Around every turn are beautiful views of water and mountains, and the hike is a great way to take it all in.
Make sure to walk the famous Lovers' Lane between Riomaggiore and Manarola. Read the beautiful story of how the path got its name here.
We started the walk on one end of the five villages and made our way to the end. Here are some of the stunning views that we encountered along the way.
If you are looking for one more stop on your European honeymoon, and want a destination to relax and enjoy beautiful scenery in a local setting, Cinque Terre is the place to be.
---
In our honeymoon and travel series, Rebecca takes you to beautiful destinations around the world for honeymoon ideas. When you think of your honeymoon, you are planning for a once-in-a-lifetime trip and you want it to be both stunning and memorable. Rebecca gives you an inside look at locations she has traveled to herself to give you some honeymoon planning inspiration. Her travel style is a mix of cultural exploration, taking in the landscape and luxury experiences.

Rebecca Chan is a Toronto event designer and event planner. If you have a brand activation, media launch event, design project or a special event, connect with her today to see how we can collaborate on your next project.