One question I get asked a lot these days is if I have a favourite wedding venue in Toronto. With literally hundreds to choose from and lots of variables, it is a difficult question to answer! However one always sticks out in my mind for a truly downtown Toronto feel with great service and fantastic style, and that is Malaparte. Malaparte is a beautiful Toronto wedding venue, in the heart of the entertainment district. Keep reading for my Malaparte Toronto wedding venue overview. Photos are from a lovely wedding I helped plan at this venue.
Malaparte Wedding Toronto – Overview
I love Malaparte! The venue lends itself well to a modern affair and the terrace is to die for. It is an event space on the 6th floor of the TIFF Bell Lightbox and it is stunning. The space is inspired by Casa Malaparte in Capri, exemplifying modern Italian architecture. Oliver & Bonacini exclusively caters this space, making it extra delectable. There are so many things to love about this venue!

Photos above: Wandering Eye Photography
Malaparte Wedding Toronto – Ceremony
Rent the terrace overlooking King Street for a beautiful tented wedding ceremony, or opt to host your ceremony on the steps of the terrace. Cocktail hour usually follows on the versatile and spacious multi-level terrace that can be set up with furniture and a bar. The tent offers shade from the sun and protection against inclement weather. It is extra beautiful on a warm summer night.

Note that the floors are now a light wood vinyl. Photos above: Wandering Eye Photography

Photo above: Mango Studios

Dress up the terrace with rented furniture like we did in this beautiful wedding. Photo above: Mango Studios

The outdoor lounge furniture that comes with the terrace above.
Malaparte – Reception space
Capacity is 150, though it is more comfortable at 130 to have a dance floor
Floor to ceiling windows with a great cityscape view
It comes with modern furniture that reflects the style of the space
Catered by Oliver & Bonacini

Photos above: Mango Studios

Use the old Hollywood wall as a backdrop to speeches or photos. Photo above: Tara Lily Photography from an understated Malaparte wedding
Tips on how to best use the space
Uplights will go along way in accenting the columns and beautiful ceiling design
Keep centerpieces low or sleek and slender for optimal views across the room
Give guests the restaurant experience – choose a "choice" menu to allow guests a choice of main entree onsite
No signs are allowed in the main lobby, so (kindly) volunteer a friend to greet guests at the lobby level to escort them to the elevators
Pricing structure is a rental fee plus food and beverage minimum spend. Consider a Friday or Sunday for a lower minimum spend
Use the terrace! It is the main attraction of this venue. Do a sparkler first dance, set it up for night time photos or fill it with furniture to make a great evening above the city!

Set up a beautiful night time photo opp with candles. Photo above: Tara Lily Photography from an understated Malaparte wedding

Photos at sunset in the bride's second dress. Photo : Mango Studios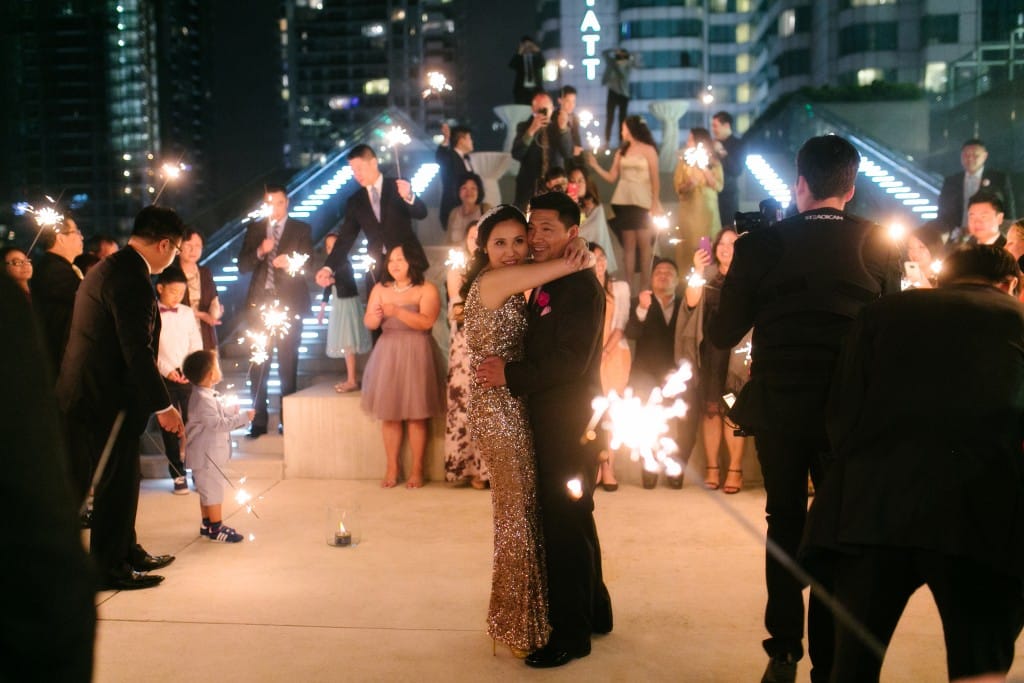 Sparkler first dance on the terrace. Photo: Mango Studios from a blush and gold Malaparte wedding
Also see:
– Blush and gold Malaparte wedding
– Blush and blue Malaparte wedding
– Modern Malaparte wedding as seen on Wedluxe
The staff at Oliver & Bonacini are very helpful and it really is a great venue to work with. With the dynamic outdoor and indoor space, it gives couples a lot to work with and guests are surprised at every turn. If you are interested in hosting your wedding at Malaparte, contact Rebecca today for more details or to schedule a tour.

Rebecca Chan is a Toronto event designer and event planner. If you have a brand activation, media launch event, design project or a special event, connect with her today to see how we can collaborate on your next project.