For those of us in Canada, an outdoor ceremony is sometimes a far fetched dream, with the thought of rain and crazy weather around every corner. Indoor ceremonies are much more common, but they need a bit of sprucing up to look pretty. If you've been looking for ideas to turn your indoor ceremony into something extra special, look no further. With these 10 unique indoor ceremony backdrop ideas, your ceremony will stand out for the right reasons and you'll manage to get those perfectly romantic photos you've been dreaming about. From elegant floral designs to do-it-yourself paper arrangements, the possibilities are endless.
Today's post is written by my fabulous summer intern, Gloria Vazquez-Abrams. Hopefully you will enjoy her list of 10 unique indoor ceremony backdrop idea as much as I did!
Unique Indoor Ceremony Backdrop Ideas – Florals and Greenery
Hanging Stems
We've seen hanging flowers before, but this is a whole new kind of way to achieve that. Using flowers with high stems like these roses are what make this backdrop so breathtaking. Pairing a look like this one with a soft fabric keeps the standalone piece from appearing barren.

Source: Ruffled Blog
Ombre Florals and Moss
Even without the palm trees, there is something about this backdrop that makes me think of the beach. You could easily switch out the floral design for another to suit almost any style of wedding. A range of colours can be chosen to reflect anything from a sunset to a French Victorian chateau.

Source: The Every Last Detail
Branches, Flowers and Candlelight
This backdrop fits just as well into the Mood Lighting category (next), but stands out for its florals arrangements amongst hanging branches. There's something about the flowery, woodsy atmosphere that makes this backdrop almost seem ethereal – truly out of a fairy tale. Pair a backdrop like this with a cozy room and antique wooden seating and your wedding guests will be ooh-ing and aah-ing. Make sure to have good A/C or ventilation with all these candles; it can get quite warm.

Source: McCalls Floral
Unique Indoor Ceremony Backdrop Ideas – Mood Lighting
Twinkle Lights
Twinkle lights have a quality about them that lends themselves to romance. When paired with sheer fabrics, the lighting is softened and makes you feel as if you're in a waking dream. You can use a different hue of fabric to suit your tastes or even go as far as blanketing the room with lights. Just make sure to stick to cool-running LED lights to avoid a fire hazard.

Source: Deity Events
Pillar Candles and Vases
Although evening ceremonies are a little less conventional, they do lend themselves to some beautiful mood lighting for ceremony backdrops. Various sizes of pillar candles and vases lend themselves to a dynamic lighting landscape. Though the ceremony in this photo takes place outdoors, the look can easily be recreated indoors. It's good to keep in mind that candles emit smoke, so if you're going to have a lot of them, make sure the space is large and open and that you won't be setting off any fire alarms. Alternatively, play it safe and use electric candles. Opt for acrylic vases and there won't be any risk of broken glass. Again, note that so many lit pillar candles will be really warm!

Source: Yes Baby Daily
DIY For the Budget-Savvy
Handwritten Scroll
Doing things on the cheap doesn't mean they have to look cheap. This particular backdrop was made to be simple but eye-catching, yet could be flanked with different decorative elements to create many looks that still maintain the same gravitas. Using a long roll of butcher paper and a backdrop stand, you get to be creative and write whatever strikes your fancy; whether it be love quotes or poetry, the story of how you met, or even the vows you'll recite right in front of it. You're literally working with a blank canvas.

Source: Style Me Pretty
Golden Sprigs
If you're a big fan of everything rustic, then this ceremony backdrop is perfect for you. All you need are some pretty greens, gold spray paint, clippers and a base – in this case, a distressed barn door. Don't feel limited by this design – the same effect can be achieved by bunching leaves together and creating a less "randomized" leaf pattern. You could also use a variety of metallic spray paints and greenery or dried flowers to create more dynamic looks.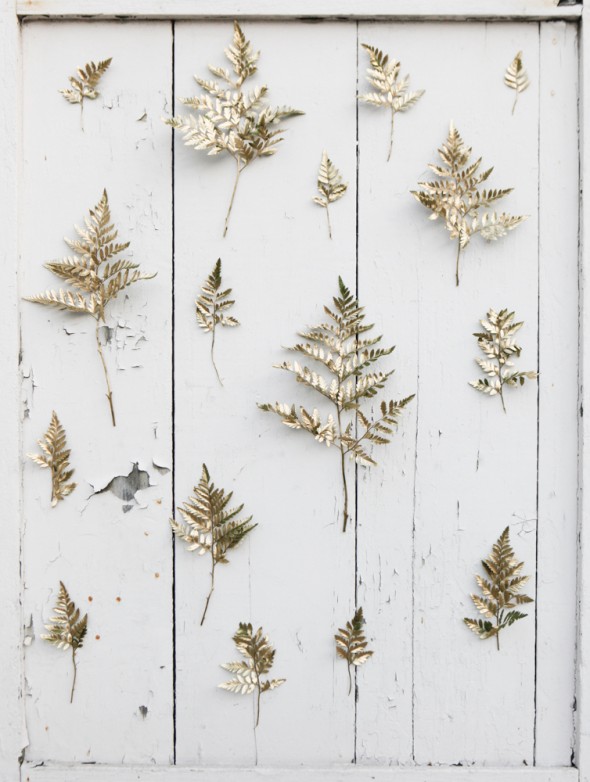 Source: Rustic Wedding Chic
Wax Paper Decoration
Made with wax paper cones, this DIY backdrop is inexpensive but intricate. I recommend making a craft day out of this project and gathering your bridesmaids to help get things done faster. Throw in some tasty treats and cocktails for the occasion and you have the recipe for a fun afternoon. If your bridesmaids don't all know each other, it's also a great way to break the ice!

Source: Style Me Pretty
Mantles
Christmas at the Lodge
Mantles fit under their own special category as an alternative to traditional wedding ceremony backdrops. Depending on the style of the venue and how you dress the mantle, the look you achieve can vary greatly. The fireplace in this backdrop is truly a masterpiece that has been expertly outfitted with candles, lanterns and lit pine branches. Especially appropriate for a wedding around Christmas time, a backdrop like this can often only be found at ski lodges or winter cottages. If you are going to put floral arrangements beside the fireplace, those with a lot of greenery will always look best.

Source: Hostess with the Mostess Blog
Faux White Fireplace with Potted Plants
This mantle is much better suited to a spring or summer wedding. The white flowers accent the colour of this "fireplace" and create an elegant, soft backdrop for a country wedding. The terracotta pots work nicely against the white wood and the overall look allows for a less expensive bill from the florist. For a dark wood, use white pots instead to achieve a similar pop of colour. That said, no matter what type of fireplace you use, white flowers and lots of green leaves will always look great.

Source: Martha Stewart Weddings
I hope you've found some inspiring ideas for your own indoor ceremony backdrop. Never be afraid to take someone else's idea and make it your own. From vintage to modern to polished, all of these backdrops can be adapted with different decorative pieces and colours to achieve a vast range of styles.

Rebecca Chan is a Toronto event designer and event planner. If you have a brand activation, media launch event, design project or a special event, connect with her today to see how we can collaborate on your next project.