All winter long, we look forward to summer for its heat and sunshine. Ice cream, bonfires, stargazing and so much more take on a whole new meaning in the summertime. Summer weddings come with a load of options when it comes to guest experience and what to wear to stay stylish. Here are some summer wedding ideas to keep guests happy and to take your outdoor wedding to a whole new level.
This post is written by my summer intern, Gloria. Thanks for your insights and ideas!
Summer wedding ideas – Summer wedding gowns

Source: BHLDN – Penelope Gown (left) and Coppelia Ballet Dress (right)
First off, if you will be holding a dreamy summer wedding, you should be dressed for the occasion. Halls and hotels call for structured and formal attire, but outdoor summer weddings call for light and flowy dresses for both the bride and bridesmaids. Your bridesmaids will be thankful for the lighter gown when you are out and about for photos in the heat!
Summer wedding ideas – Personalized sunglasses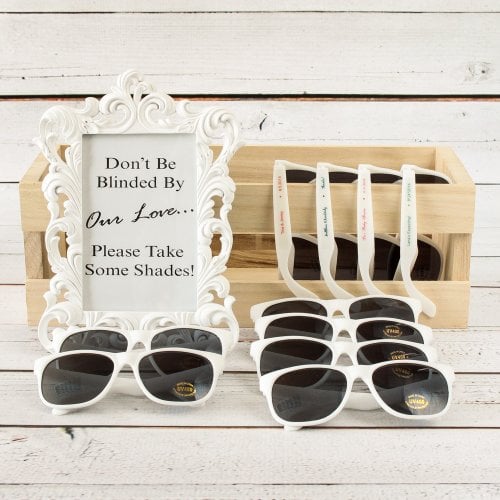 Source: Beau-coup
Offer your guests wedding favours that will show them you care. If the temperature is going to drop at night time, have blankets they can throw over their shoulders. If they'll be outside during the day in the heat, have a basket of sunglasses they can pick from. Even better, personalize the sunglasses as a nice party favour (it will make for great photos!).
Keep in mind that even if your guests do have sunglasses for your outdoor ceremony, you should still try your best to ensure that they won't be facing the sun head-on (note the direction you will be facing and the time of day).
Summer wedding ideas – Cold treats

Source: Sweet Sammies
Cool your guests down with tasty ice cream sandwiches, ice cream or popsicles! Get an ice cream trolly at your wedding and your guests will flock to it. I can't think of a way to make anyone more happy than with frozen desserts after an outdoor ceremony.
Summer wedding ideas – Keeping bug-free

Source: Aron Goss Photography
I'm sure everyone can remember a time where they were out at night at someone's party and got eaten alive by mosquitoes. If you will be hosting any outdoor activities, especially near wooded areas, provide bug spray or lotion for your guests and you will be saving them from a painful, irritating day.
For a daytime ceremony, sunscreen is also an invaluable pleasantry that you can offer to your loved ones. Your family and friends will see just how much you care if you offer them protection from the sun and the bugs.
Summer wedding ideas – Beverage station

Source: Weddingstar
Guests will be very happy if you offer them something to drink while outside, especially if it is hot. Consider having a beverage dispenser and some cute straws for a nice drink station, or have a tub filled with ice and your favourite bottled drink. Always over estimate on how much people will drink.
---
About the author: Gloria is a summer intern with Rebecca Chan Weddings & Events, studying at Humber College's Event Management program. She loves finding out about new trends, and seeing all the details of a wedding come together.

Rebecca Chan is a Toronto wedding planner and day of wedding coordinator providing sophisticated planning for the style-savvy couple. Whether you need planning assistance or wedding day coordination, Rebecca can help you create your dream wedding day. Contact her today, she'd love to hear from you.