This past weekend I had a Saturday off from weddings and had the pleasure of staying at the Shangri-La Hotel, Toronto for a luxurious staycation. If you have a weekend to spare and don't want to drive out, or are thinking of coming to Toronto for a trip, this is a fantastic way to escape the city for a taste of timeless luxury. Keep reading to see what I did on my luxury staycation at Shangri-La Hotel, Toronto.
Enjoy rooms with comfort and luxury
Shangri-La is known worldwide for providing sophisticated luxury and it did not disappoint. The 202 guestrooms at Shangri-La Hotel, Toronto, feature some of the largest in Canada, starting at 490 sqft. Every floor and guestroom features an Asian-inspired aesthetic. Gone are the booklets and binders of paper here. Every room features an iPad and on-TV menu system, so you don't have to look far to make an order. They have also partnered with Lululemon for 24-hour yoga sessions from the convenience of your television.
Upon checking into my room, I realized I was upgraded to the beautiful Owner's Suite. 1100sqft of amazing. Wow, it was unbelievable. Set atop the 17th floor (top floor of the hotel suites), this dark and dramatic suite features a one bedroom suite, an office with pullout couch, living room, bathroom and private terrace.
The real jaw-dropper was the luxury bathroom. I swear it is bigger than my bedroom at home. It was covered from floor to ceiling in beautiful marble, with two vanities, heated floors, walk-in shower and deep soaker tub with jets (I definitely took some time to soak in this one!). The walkout to the terrace made for beautiful natural light. Don't worry about the peeping toms, the bathroom (and bedroom) comes with drapes that open and close with a touch of a button.
This was definitely my favourite room of the suite!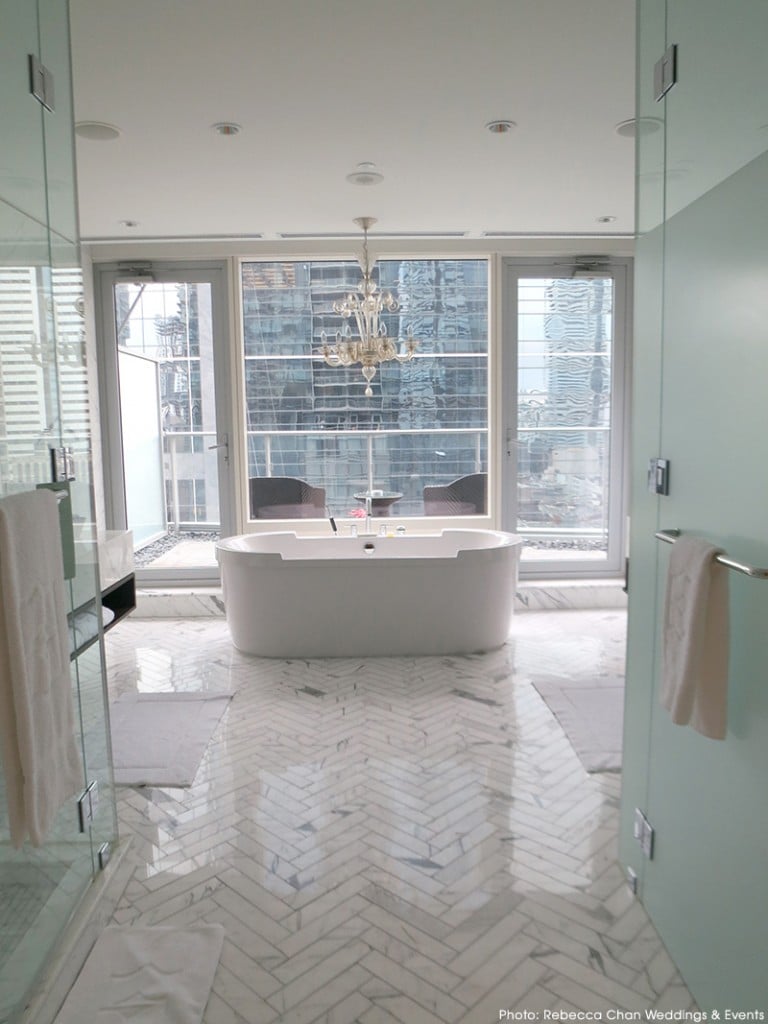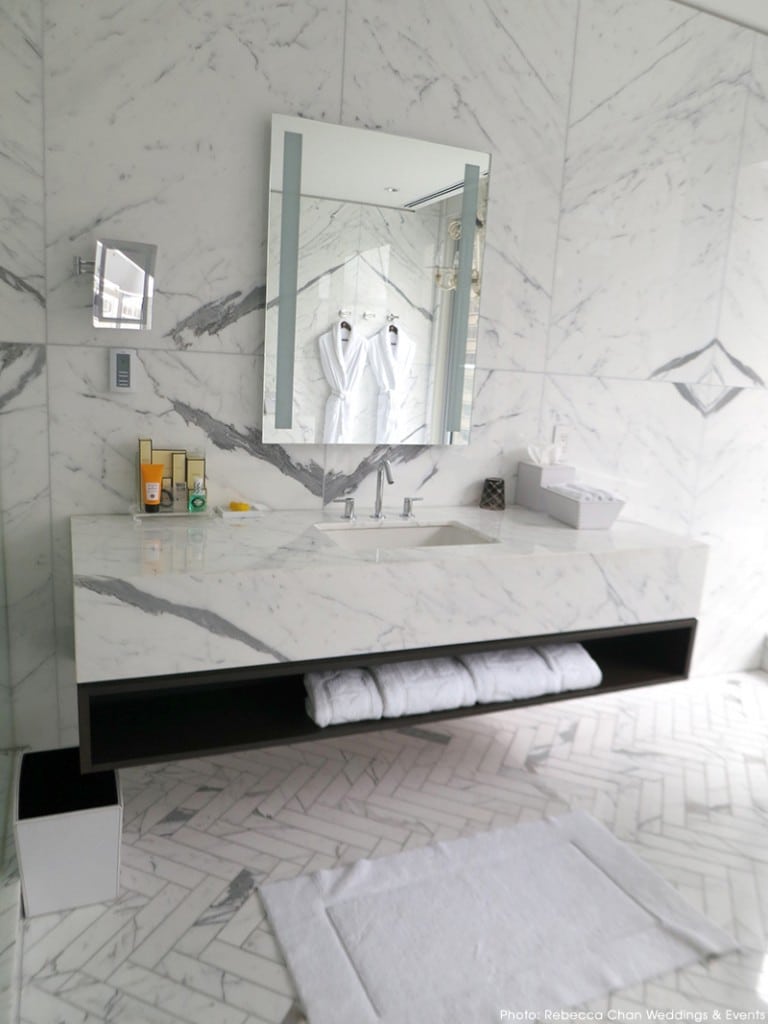 Live Music at the Lobby Lounge and Dining at Bosk
After checking in, head back to the first floor for live music in the Lobby Lounge followed by dinner at Bosk, the hotel's signature restaurant.
One thing I love about this hotel is the live music. The Lobby Lounge features some great local musicians every day from 3:00pm to the wee hours of the night. Make sure to get there early for a seat.
As with the rest of the hotel, you will find Asian-inspired decor here, amidst the fireplace and grand piano. On the weekends, you will also find cute birds chirping away in the lobby (in their cages of course) to add to the whole aesthetic. The staff are all in tastefully appointed and matching Chinese dresses that I just adore.
Lastly, is it weird that I love the swipe-activated doors to the bathrooms? Simply wave your hand in front of the motion sensors and the door opens for you. They designed it just for us door-touching germaphobe Asians. It's all in the details!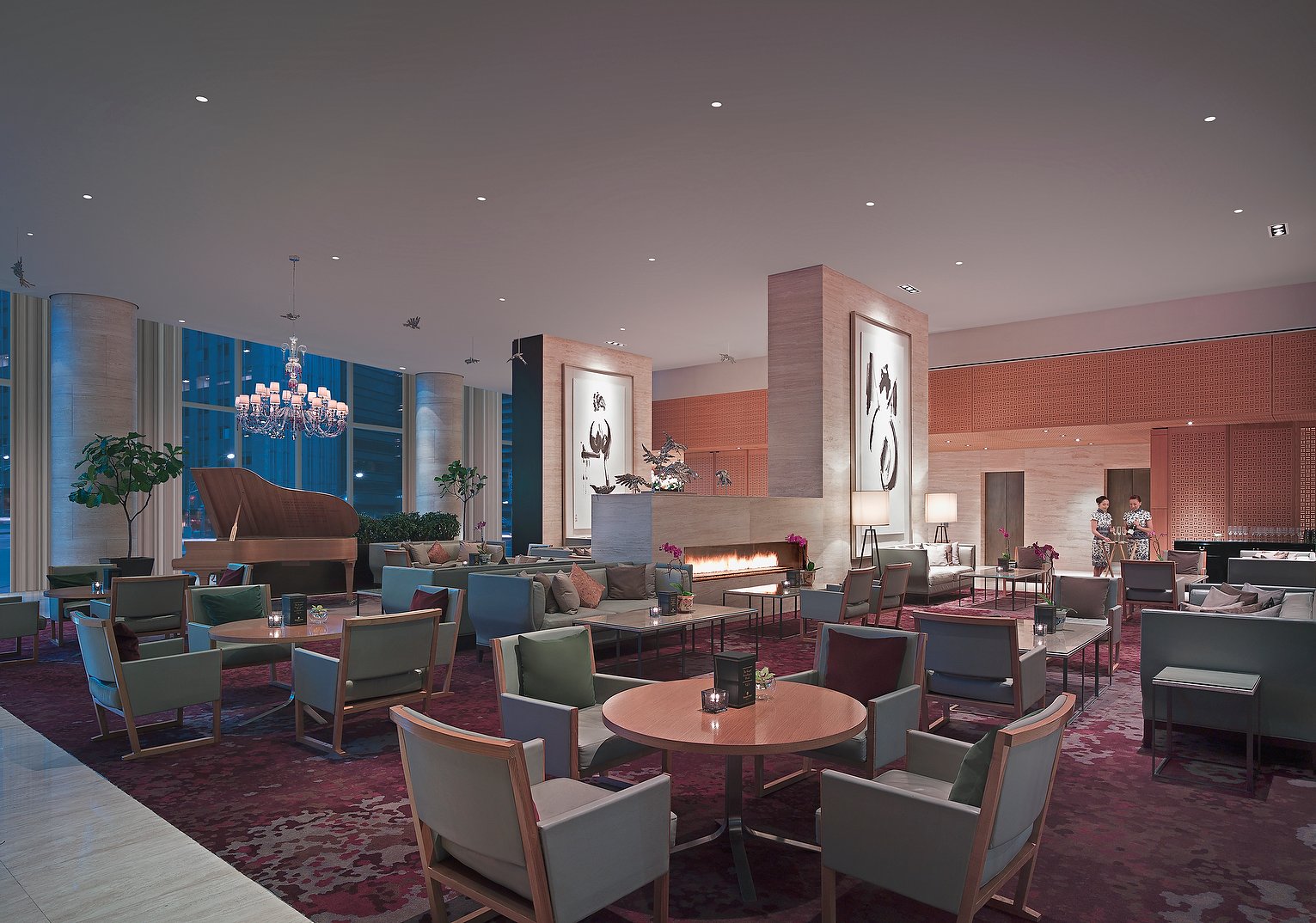 Source: Shangri-La Hotel Toronto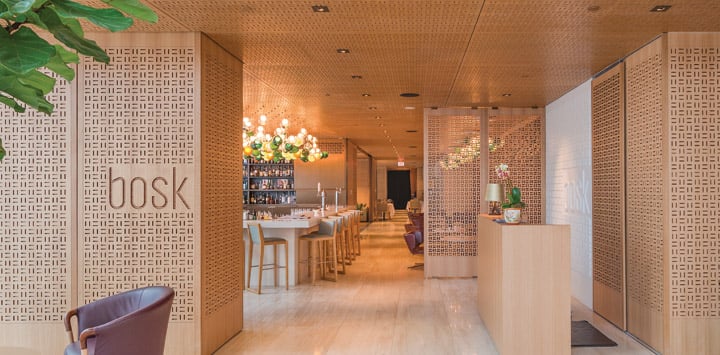 Source: Shangri-La Hotel Toronto
Despite the bustle in the Lobby Lounge, dining at Bosk is quite private and quiet. I actually wrote about their private space recently in our post about 10 Toronto restaurants for a wedding rehearsal dinner. At Bosk, staff provide quite the spectacle while filling up your cups.
Bosk has an extensive wine list to choose from and an international cuisine to cater to the masses. Here is my husband about to enjoy some really delicious steak and wine.
Enjoy a night on the town in Toronto
One fantastic thing about the Shangri-La Hotel, Toronto, is its location in the heart of Toronto. You are a short walk from Nathan Phillips Square and Eaton Centre and a stone's throw away from the entertainment district.
Pan-Am Games have taken over the city so we figured it would be a great opportunity to see the Panamania at Nathan Phillips Square with fireworks in the evening.
Have Breakfast in Bed, Relax at the Spa and Enjoy High Tea
Guests have a choice of in-room dining or breakfast at Bosk. Since we just ate at Bosk the night before, we ordered a delicious hot breakfast with in-room dining to enjoy our room a tad bit longer. Fried eggs and toast for me, and a potato omelette for him. Both were delicious. Don't forget to build yourself a coffee with their complimentary Nespresso machines, available in all guestrooms.
After we finished breakfast and checked out, we enjoyed one-hour personal massages at the Miraj Hammam Spa by Caudalie. Tucked away on the 5th floor of the hotel, the spa was a needed escape from the bustling city. Complete with private cabanas with televisions by the pool and well-appointed lounge areas, you could easily spend a few hours here. Make sure to enjoy some of the Caudalie products in the washroom on the spa side. They are amazing!
We finished off our luxury staycation at the Shangri-La, Toronto, with high tea in the Lobby Lounge. We chose tea from their extensive tea menu, to accompany their standard high tea package of finger sandwiches, scones and desserts. We scored a seat by the fireplace and enjoyed an afternoon of good eats.
All in all, Shangri-La Hotel, Toronto, made for a fabulous staycation in the city. We ate well, were pampered and got what we came for – relaxation. With its convenient downtown location and sophisticated amenities, consider making this your next staycation in Toronto. Thank you Shangri-La Hotel, Toronto, for having me. I will be back!

Rebecca Chan is a Toronto wedding planner and day of wedding coordinator providing sophisticated planning for the style-savvy couple. Whether you need planning assistance or wedding day coordination, Rebecca can help you create your dream wedding day. Contact her today, she'd love to hear from you.