Couples who are dreaming of a beautiful garden wedding followed by an elegant reception naturally gravitate towards Graydon Hall Manor. It is a picturesque estate that has turned into an event space, complete with amazing food and stellar service.
Weddings at Graydon Hall Manor benefit from their neutral, yet elegant, colour palette that lends itself well to any colour scheme. The venue has two floors and is privately booked for couples holding weddings onsite. Upstairs you will find a beautifully appointed bridal suite, with a number of other rooms that are perfect for tea ceremonies or for getting ready.

Effortlessly chic! Photo: Mango Studios
Graydon Hall Manor Overview:
In-house catering provided by Couture Cuisine, with a menu that can be fully customized
Standard bar by consumption is commonly provided
Full venue is privately booked for weddings, includes the garden and terrace
Receptions are typically held indoors in their dining room, but can be done on the terrace (extra fees apply to erect a custom terrace tent)
As with most venues, they work on a room rental + minimum spend
Graydon Hall Manor Wedding Ceremonies
Ceremonies are typically held in their manicured garden. Most couples love the lush greens and secluded nature of the grassy area of their gardens. Ceremonies can also be held around the fountain. When the whether is not cooperating, ceremonies will be held in their indoor coach house, which is quite a nice indoor backup option.

Graydon Hall Manor wedding ceremony, set up in the garden. Photo: Mango Studios

Graydon Hall Manor wedding ceremony set up around the fountain. Photo: Julia Park Photography
Graydon Hall Manor Wedding Receptions
As with the ceremony, there are a few options for dining as well, depending on your guest count and preferences. Couples with guest counts over 80 will commonly dine indoors with round tables. If you want to dine outdoors, they have an option to dine on their terrace if weather permits. An extra fee applies for erecting a custom tent that wraps around their trees on the terrace.

Graydon Hall Manor indoor wedding reception set up with round tables. Photo: Julia Park Photography

Typically the head table is situated in front of the doors leading out to the terrace. Photo: Mango Studios

If you have a small guest count, you can consider dining with one long banquet table across their dining room. Photo: Mango Studios
Graydon Hall Manor Wedding Photos
One thing I love about this venue is how beautifully appointed it is. It has been wonderfully restored, keeping its historic charm while providing updated modern amenities. Whether you are indoor or outdoors, it provides a picturesque backdrop for photos.

Love their picturesque terrace! Photo: Mango Studios

Their juliette balcony from the bridal suite is perfect for photos. Photo: Mango Studios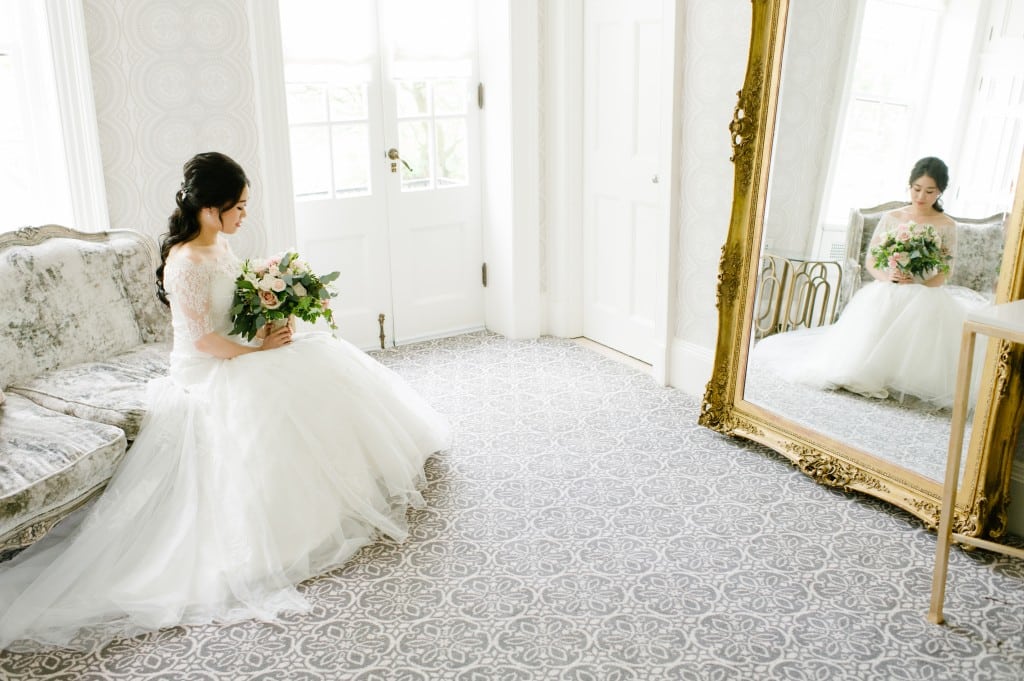 Love their bridal suite! Photo: Mango Studios

Their bridal suite is just divine. I love this room and the balcony. Photo: Mango Studios

Sparklers and first dance outdoors is a must here! Photo: Julia Park Photography
We have planned so many beautiful weddings at Graydon Hall Manor over the years. It is picturesque and charming, perfect for an elegant wedding soiree!
Weddings pictured here:
– Afternoon Tea Inspired wedding
– Gold and Ivory wedding
– Elegant Graydon Hall Manor wedding

Rebecca Chan is a Toronto event designer and event planner. If you have a brand activation, media launch event, design project or a special event, connect with her today to see how we can collaborate on your next project.