Not everyone dreams of a honeymoon with water and sand. Some couples opt for an urban adventure to explore good eats and fun sights. I recently took a trip to sunny San Francisco to give you a glimpse of what an urban honeymoon in San Francisco could look like. Explore the Bay area's wealth of scenic locations, Michelin-starred restaurants and fun neighborhoods for the ultimate urban getaway. Keep reading for my round up of the best ways to spend your romantic vacation in the charming city by the Bay, San Francisco.
Where to stay
If an urban getaway is what you are after, you will want a mix of comfortable accommodations and central location. This is especially true if you are looking for a hotel in San Francisco's Bay Area. A number of the usual five star hotels I gravitate towards (Ritz and Fairmont for example) are located at the top of a steep hill, making for an annoying walk to and from the hotel every time you have to go somewhere.
You will want to pick a hotel in the heart of the downtown Bay area. Most of the attractions in the area can be found along or near the subway line, so make sure you are staying near a stop on the Bart or Muni system.
The Marker Hotel
I enjoyed a stay at a luxury boutique hotel called The Marker, a Joie De Vivre property. Centrally located and beautifully appointed (and no crazy hills!), it was the perfect spot for an urban adventure. I especially loved this hotel's charming decor.
Location: Location is what you are getting here. The Marker is just a five-minute walk to Union Square, the main shopping area. It was so easy to get to and from everywhere I wanted to go. A lot of great restaurants are also located within walking distance from the hotel.
Amenities: Each room is well appointed with everything you need. Wifi is complimentary and so is the bike rental. Make sure to take their bikes out for a ride (see below for my trip!).
Dining: Food at their restaurant, Tratto, is delicious. The restaurant is also a hive of activity at night.
Weather: It is mostly nice and sunny in SF year round, but because it is the "Bay area" and everything is by the water, you should expect it to be a few degrees colder than the weather forecast.

Main foyer area and staircase at The Marker, San Francisco.

Tratto Restaurant at The Marker

My breakfast at Tratto Restaurant, yum!

My welcome amenity from The Marker (such a great snack after a long day of travel!).

How beautiful and charming is this room? Every room looks a little different and includes their signature vibrant yet luxurious aesthetic.

If you opt for The Marker's Signature Spa Suite, you will get to enjoy this beautiful bathroom!
What to do
If you're in SF, you will mostly be enjoying great food, exploring fun neighborhoods and taking in the scenery. Here are a few highlights from my trip that are recommended places to visit.

Take in the stunning views at Lands End. You will need a car to get here.

Gawk at the noisy sea lions at Pier 39.

Take a ride on the Mason Street cable cars.

Enjoy some fortune cookies and good eats in Chinatown (the fortune cookie originated here!).

Explore the quirky hipster stores in the Mission District.

Have a picnic at Mission Delores Park like the locals (we picked up our pastries from a cute bakery nearby called Tartine).

Feast on homemade, organic ice cream at Bi-Rite (just outside Mission Delores park).

Shop til you drop in Union Square. This Nordstrom is insane!

Eat like a king at one of the many Michelin-starred restaurants (pictured here is Rich Table's tasting menu).

Take in the windy roads and crazy hills (seen here is Lombard Street).

Is any trip to SF complete without visiting Alcatraz? Not exactly what you might picture for a honeymoon attraction, but the views from the island are spectacular.
Bike the Golden Gate Bridge
This deserves its own section because it was a highlight of my trip. Our hotel, The Marker San Francisco, had complimentary bike rentals, and it was such an amazing and scenic bike ride to the Golden Gate Bridge! This is a full day activity. The views are STUNNING. Note that I do bike regularly, so it wasn't that bad for me, but it might be challenging if you don't bike often!
You will want to start around lunch or just after lunch, so that you end up at Sausalito at sunset. We biked along the harbourfront, on to the Golden Gate Bridge, landing in Sausalito and took the ferry back. It was about 20km of biking.

You will definitely stop a number of times to take photos along the route because it is such a scenic bike ride.

The ride over the Golden Gate Bridge is very windy! But so rewarding.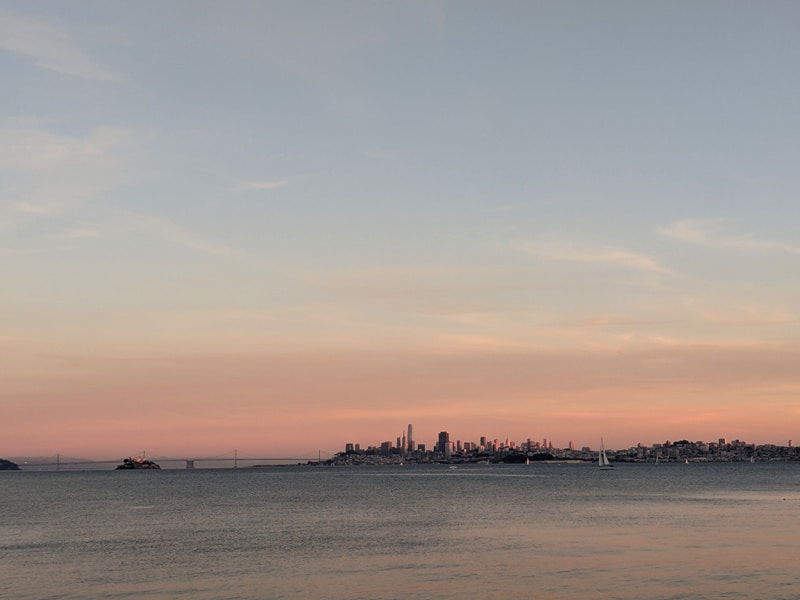 After the bridge, you will land in a cute and charming little town called Sausalito. Time your ride so that you land there for the cotton candy sunset. The ferries take their last trip around sunset as well, so you don't want to be left stranded.

If you timed your route well, you can take the ferry back when the night falls, allowing you glittery nighttime views of the city on the way back.

This was our actual route from our phone that was tracking it (the ride back across the water was on the ferry).
When planning your urban honeymoon or getaway in San Francisco, you really can't go wrong with all the sights and sounds the city has to offer. Just make sure you have enough time to see/eat/do it all!
Photos of the hotel were provided by The Marker, San Francisco.

Rebecca Chan is a Toronto event designer and event planner. If you have a brand activation, media launch event, design project or a special event, connect with her today to see how we can collaborate on your next project.