This week, we had the pleasure of sharing Chinese New Year gifting and food ideas with CP24 Breakfast, live on location at Shangri-La Hotel, Toronto. See what you missed below! Thank you to August Media for being onsite to capture all the magic!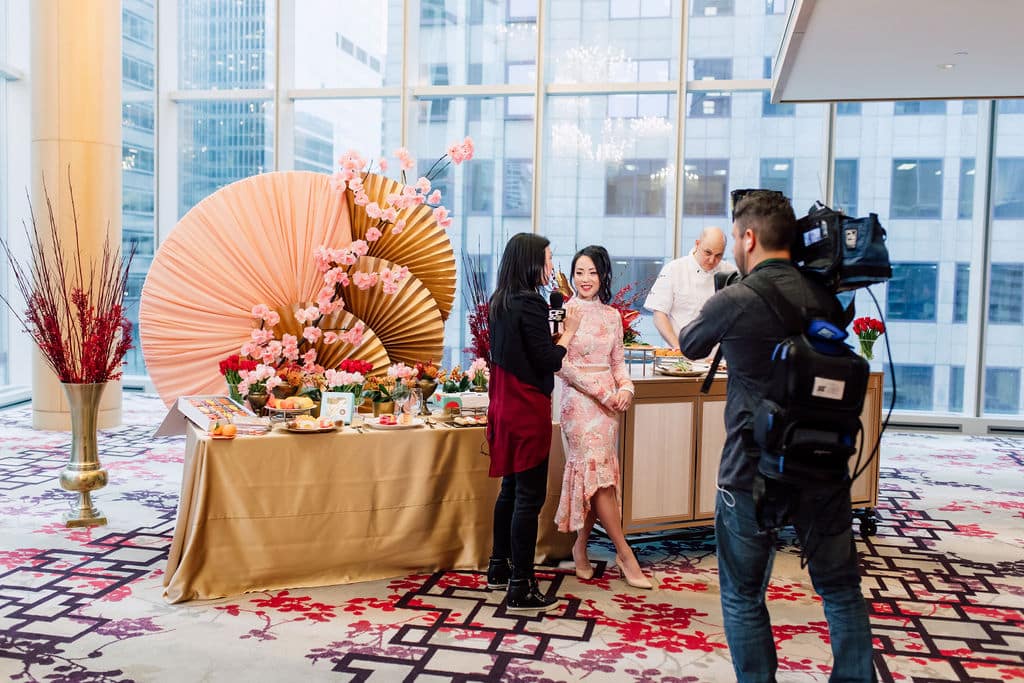 Chinese New Year would not be complete without a performance from traditional lion dancers. Wushu Project delighted us with a special pink lion that matched our decor set up perfectly.
Modern Gifting Ideas
We all know Chinese New Year is about giving and receiving well wishes for red pockets. I brought in some unique gifting ideas from Toronto retailers with special limited edition Chinese New Year gifts.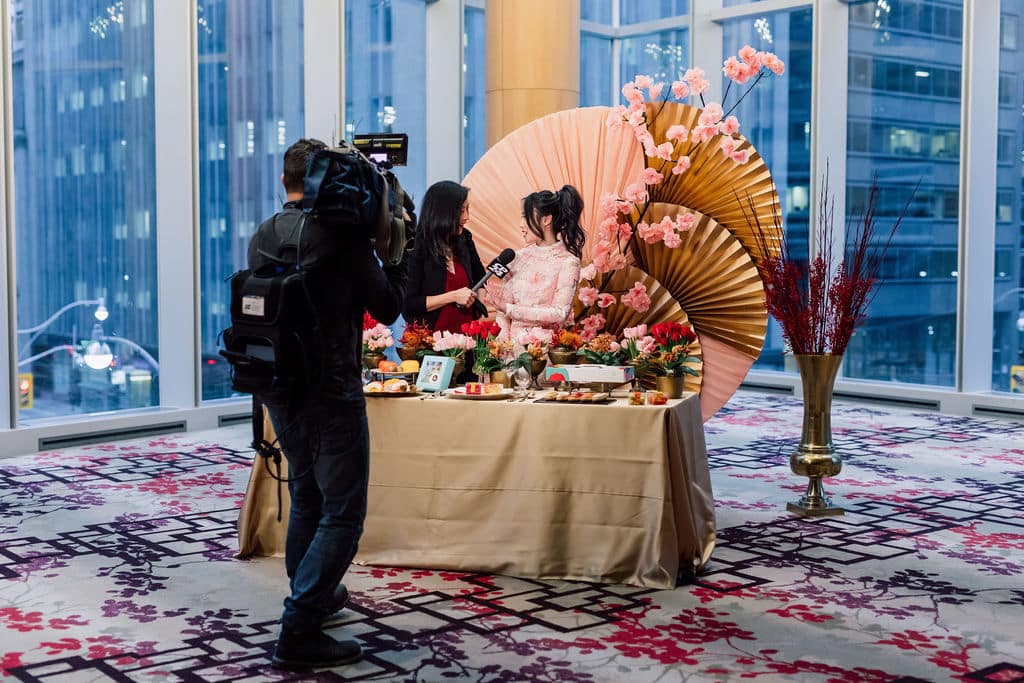 Nugateau's beautiful custom decorated eclairs made such a statement. They come in a special gift box, perfect for gifting.
Candy Fix Boutique shared a special Lunar New Year gift box with us, complete with lucky gold and red coloured sweets. This would be a special gift for a boss or friends with kids.
Mango Like Desserts created special red "pockets" filled with lychee and mango, a tasty combination for the new year.
Decorate with Colour
Our decor partners pulled out all the stops, giving us inspired creations for decorating for the New Year.
Red and gold are traditionally lucky colours. If you want to decorate to bring luck to the home, definitely use red and gold! I added a pop of pink to soften up the colour palette. Opening Night Flowers gave us some beautiful pops of colour in the floral. Chair Decor provided gold linen and charger plates that complimented the look so well.
Ettridges Studio created a stunning backdrop of pink chiffon, gold fans and custom made and hand-dyed cherry blossoms made of crepe paper. Cherry blossoms signal the start of spring so they are used often for decor. It was so beautiful and so appropriate for the season.
Feast with Lucky Foods
Holidays are always about eating and feasting with family. Chinese New Year is no different! We brought in traditional and modern takes on festive foods for the segment.
Rovey Catering provided us traditional foods typically eaten at Chinese New Year. Steamed fish is my favourite dish, and it's displayed whole with a head and tail to symbolize a lucky start and finish to the year. Roast pork and shrimp balls also were shared in the segment, as they are typically eaten in big Chinese banquets for the new year.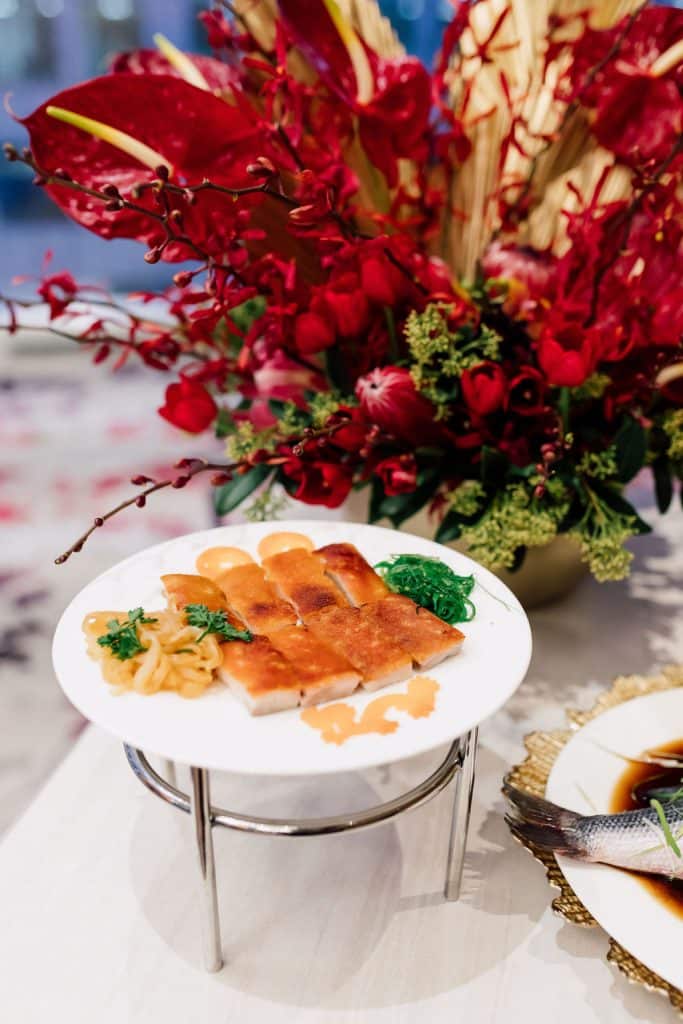 For a modern take on Chinese New Year good eats, we enjoyed a special Chinese New Year Afternoon Tea at the lobby lounge at Shangri-La Hotel, Toronto. We were joined by Executive Chef Malcom Webster. It was such a delight!
Thank you to Puzzle Creations, Lune Beauty Boutique and Fitzroy Rentals for helping me look so fab.
It was such a pleasure to share traditions I grew up with, as well as inspiring ideas for a modern take on Chinese New Year. Big thanks to Shangr-La Hotel, Toronto, for partnering with us to make this happen. Thanks for tuning in!

Rebecca Chan is a Toronto wedding planner and day of wedding coordinator providing sophisticated planning for the style-savvy couple. Whether you need planning assistance or wedding day coordination, Rebecca can help you create your dream wedding day. Contact her today, she'd love to hear from you.