With international travel up in the air during the pandemic, a lot of couples are turning to domestic travel for their destination wedding or honeymoon plans. If you are looking for a scenic destination within Canada, look no farther than Jasper, Alberta.
Outdoor enthusiasts will love the myriad of summer options for kayaking, canoeing, biking, and hiking, while nature lovers will love the tranquil and immersive stay amidst the Canadian Rockies. Jasper is also designated as a Dark Sky Preserve by the Royal Astronomical Society in Canada, due to its limited light pollution that creates ideal conditions for stargazing.
Keep reading for my Jasper honeymoon guide. It is seriously a stunning place to visit, albeit a little remote. I would go back in a heartbeat!
Getting to Jasper
There is a reason Jasper is more remote and less traveled than Banff, and that's because it is 4-5 hours from any main airport or city. It is about 4 hours from Edmonton and 5 hours from Calgary.
I flew in and out of Calgary, rented a car from the airport, and drove to Jasper, then Banff, then back to Calgary.
The drive is incredibly scenic and won't feel that long. The route to Jasper on the Icefields Parkway is stunning in and of itself.
Packing Tips
Mountain weather can change every 20 minutes, especially in the shoulder seasons. It can be cold in the mornings and then warm up in the afternoon while on a hike. Pack layers so you have options. I went in late September and it felt like winter some mornings (re: gloves and a puffer jacket), but warmed up as the afternoon hit (re: tshirt). Hiking boots will also help with some rugged terrain on hikes.
Make sure to purchase a National Park Pass in advance, as you will actually be staying inside the Jasper National Park.
Where to Stay
If you are looking for accommodations in Jasper, you will find that most resorts provide a cabin-style living. Think rustic wood cottages in Muskoka, but in the Canadian Rockies. Most of the accommodations in Jasper are pretty average-looking. You won't find five star hotels here.
I was looking for a lake-side resort with comfortable luxuries, so I stayed at the Fairmont Jasper Park Lodge. I had an amazing stay that exceeded expectations, and I highly recommend staying here.
Fairmont Jasper Park Lodge
I truly enjoyed my stay at the Fairmont Jasper Park Lodge. This unassuming property boasts heritage log cabins, an emerald-coloured lake – Lac Beaumont, and is surrounded by scenic mountain views. You are immersed in nature, but with the comforts one would expect in a luxury resort. The cabin-style lodging scattered around the lake make the stay feel relaxed, like a private cottage getaway. It is the perfect spot to jump start your adventures in Jasper, all while on a retreat to refresh the soul.
Location: Fairmont Jasper Park Lodge is conveniently located just outside the town of Jasper and near many hiking trails, yet secluded enough on its own vast property. It's just private enough that you feel like you are in your own wildlife sanctuary situated in the Rockies, but it's also a fairly large property with a lot to explore.
Amenities: The property has its own boathouse on the lake, for kayak, canoe, bike and paddle board rentals. There is a beautiful trail that wraps around the lake, that you can walk or bike. The main lodge also has a spa facilities, with an outdoor heated pool and outdoor hot tub. The property also has a top-rated golf course onsite that is often booked up. You can certainly have an amazing stay without even leaving the Jasper Park Lodge.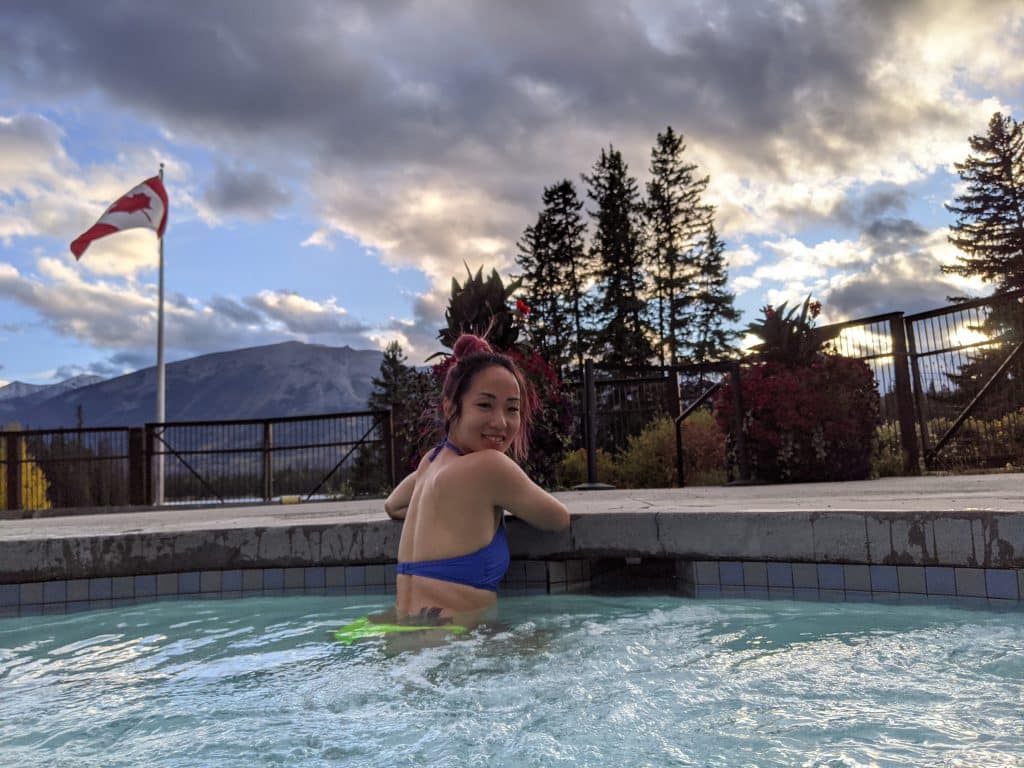 Dining: Guests can enjoy food at Emerald Lounge in the main lodge, delight in italian delicacies at Orso Italia or enjoy sushi at Oka Sushi. Many local restaurants are just a short drive away in the town of Jasper as well.
Weather: If you are looking to do any outdoor activities like hiking or kayaking, you will want to visit between May to September. Early October is also possible and can be beautiful for the fall foliage (we went end of September into early October), but after Thanksgiving almost all the attractions close because of snow and cold!
Accommodations: Fairmont Jasper Park Lodge is not a traditional hotel, but boasts heritage log cabins as their accommodations. Book an Estate Cabin to be near the water and lodge (it's the "Fairmont Gold Floor" of this location) or upgrade to a Suite that overlooks the waters with a large living room. The accommodations themselves are more traditional in their style, but its the surroundings and property that really are memorable.
What To Do
If you're in Jasper, everything "to do" is outdoors. The main attractions are emerald lakes and scenic hikes. Here are some of my highlights for must-dos in the area.
Take in views of Maligne Lake, by boat cruise or canoe.
Enjoy the sunset over Pyramid Lake over dinner at The Pines Restaurant.
Hike the Maligne Canyon and eat the Wilderness Kitchen (a fantastic restaurant onsite).
Hike the main beautiful trails nearby – Old Fort Point Hill (moderate and seen here) and Valley of Five Lakes (easy). Download the AllTrails app for helpful reviews and routes for hiking trails nearby.
Take in the beautiful Athabasca River from one of the many lookouts off the highway.
Walk the Columbia Icefield Skywalk (glass bottom bridge!).
I really fell in love with the Canadian Rockies while on this trip and our stay at the Fairmont Jasper Park Lodge was the perfect retreat for our adventures. The scenery is sure to take your breath away. If you love mountains, water and the great outdoors, Jasper is an amazing destination that you should definitely add to your bucket list.
If you are looking to extend your trip, make sure to check out our honeymoon guide for Lake Louise and Banff.

Rebecca Chan is a Toronto wedding planner and day of wedding coordinator providing sophisticated planning for the style-savvy couple. Whether you need planning assistance or wedding day coordination, Rebecca can help you create your dream wedding day. Contact her today, she'd love to hear from you.