Lunar New Year is by far the largest holiday that is celebrated for Asian cultures, and we were thrilled to film with Cityline for their special Lunar New Year segment, where we shared our favourite decor and gifting ideas. How will you be celebrating this year? In case you need some ideas for how to celebrate Lunar New Year, keep reading and check out our two segments! Special thanks to Purple Tree Photography for capturing the details!
Note that because I am from a Chinese background, our decor and traditions are how we celebrate Chinese New Year. There are a plethora of different traditions from different cultures celebrated all over the world, ours just happen to be about Chinese New Year culture and traditions.
Chinese New Year Decorations – Decorate in Red and Gold
If you've been to any Chinese supermarket or store lately, you will know that red and gold are the colours to decorate with for the season. Why you ask? Red is a symbolic for strength and power, while gold is symbolic for wealth and prosperity. So much of what is done during Chinese New Year is about bringing the most luck and fortune to you, your family and to the household. Decorating in red and gold is a sure way of doing so!
Don't you love the backdrop we set up? It was so stunning! Backdrop panels are from Luxury Event Decor, balloons from Ballons By Dina and floral from Opening Night Flowers.
Chinese New Year Decorations – Place Settings
When setting a place setting, we used beautiful rentals from Simply Beautiful Decor in a soft blush. We finished off the look with a bowl and chopsticks (since we will be eating lots of rice and noodles!), and a porcelain persimmon decoration from Love Lettering by Doris Wai, with hand calligraphy.
Chinese New Year Traditions – Auspicious Food
If you are looking to host family, make sure to cook up or order in lucky food for Chinese New Year. Hong Shing Restaurant kindly shared with us some special dishes from their Chinese New Year Set Menu, including crab claw, lobster and longevity noodles.
If you are looking for a modern take on Chinese New Year foods, check out Shangri-La Hotel Toronto's beautiful afternoon tea set, available for takeout and dine in. It is a beautiful representation of lucky foods and Asian flavours, mixed with traditional afternoon tea delicacies. It's a great season to treat yourself to something nice!
Chinese New Year Tradition – What to Wear
This is a great time to rock a Chinese-style dress or shirt. I love going to dim sum with a beautiful cheongsam-style shirt for the season. This time, I'm wearing a special vintage cheongsam from my grandmother, accented with a modern belt from House Of Tytan.
Chinese New Year Gifting Ideas
Love Lettering by Doris Wai has released a limited edition letterpress calendar featuring peonies and a tiger. This is a perfect gift for family! I know my mom will love this one. She has also designed a modern red pocket envelope set, great for writing a well wish on and gifting this season.
Nugateau has a stunning gift box of limited edition Lunar New Year eclairs decorated to the nines. It even comes with a special gift box that was designed by a reknown artist from Toronto.
Fresh flowers are a great gift idea for friends or family. Flowers in bloom represent a vibrant and energy. Find flowers in lucky reds and pinks to wish your recipient luck and prosperity. Orchids are also a great choice, as they represent beauty in Chinese culture. Our flowers are from Bloom Service Co.
House Of Tytan has created a special run of Lunar New Year masks and bowties, in case you are wanting to dress the part. The colours are beautiful and very auspicious.
Author Samantha Chan has created and illustrated a special book series for children to learn Cantonese. Two of her recent books are about Chinese New Year greetings and learning the traditions around the season in the Lucky Red Mittens book. A great gift idea for anyone with kids.
Wish family and friends health and wellness with the gift of tea. Tealish offers some beautiful tea tins that would make a great gift.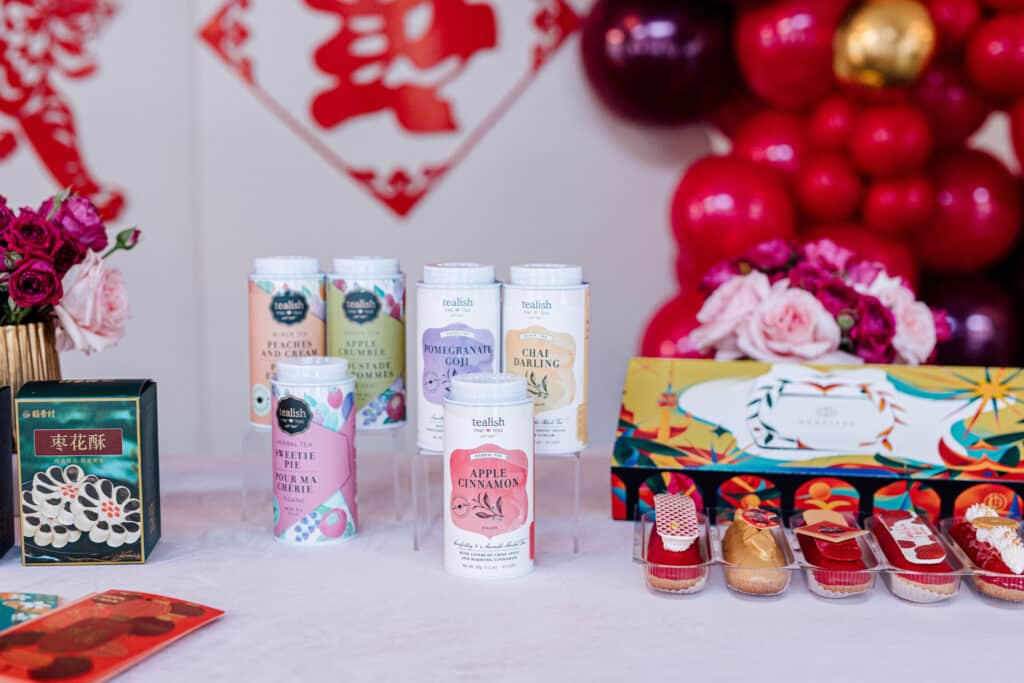 No matter how you are celebrating, I wish you a year of prosperity, good wealth, fortune and joy. Let's kick off 2022 on the right foot!

Rebecca Chan is a Toronto wedding planner and day of wedding coordinator providing sophisticated planning for the style-savvy couple. Whether you need planning assistance or wedding day coordination, Rebecca can help you create your dream wedding day. Contact her today, she'd love to hear from you.