We were thrilled to join Cityline again for a special segment on Lunar New Year ideas, traditions and customs. We showcased fun gifting and food ideas from my Chinese background, including some fun drinks for the audience. It was so much fun! Thanks to August Media for capturing the photos onset. Special thanks to Qipology for the lovely velvet qipao.
I am a huge fan of mixing vintage furniture with modern decor, and Glamourous Affairs helped us create the perfect set up for the segment.
We decorated the set with a modern Neon Sign from Fuse Neon, and beautiful backdrop from Soho Sweet Carts. The vinyl really gave it a pop, done by Designer Dance Floors.
Flowers are a must for Lunar New Year, representing new life and energy. Cherry blossoms are popular for the occasion.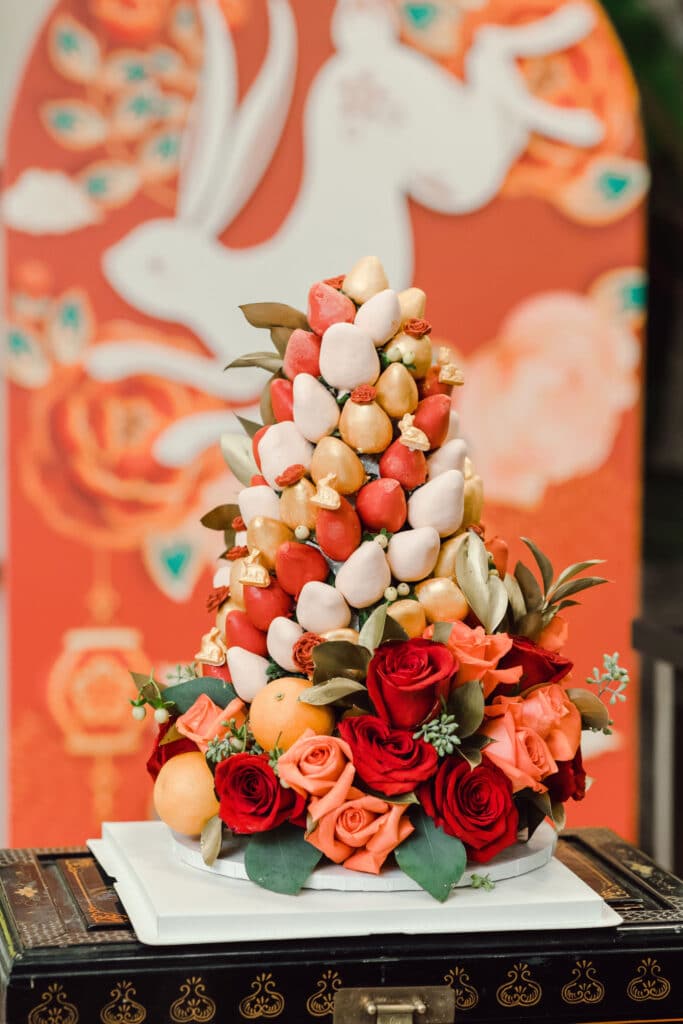 Gifting fruit is very common in the Asian culture, and Dip The Tip Desserts created a stunning tower of chocolate dipped strawberries in a beautiful floral theme. Just perfect for bringing to someone's house.
Masterchef Canada winner, Christopher Siu, designed this beautiful lucky mandarin orange mouse cake, that is sure to delight. These can be ordered from his bakery Daango Bakery.
We also joined Chef Nick Liu from DaiLo Restaurant in the kitchen to prep dumplings. Dumplings are very symbolic during Lunar New Year as they are like a little purse, holding your abundance and luck in a package. They also look like Chinese ingots and old nuggets, so they are eating for wealth and prosperity.
It's always a blast on set with Cityline! Until next time.

Rebecca Chan is a Toronto wedding planner and day of wedding coordinator providing sophisticated planning for the style-savvy couple. Whether you need planning assistance or wedding day coordination, Rebecca can help you create your dream wedding day. Contact her today, she'd love to hear from you.