This urban jungle oasis wedding was nothing short of unique – a 12ft cage as the main focal point, burlesque dancers, and an emersive jungle theme carried throughout. This wedding was also held at the Museum of Contemporary Arts and was their very first wedding held onsite. The bride and groom wanted something that no one had ever seen before and did not want your typical wedding reception, and that's exactly what they got.
Planned by Rebecca, and photographed by Mango Studios. As seen in Toronto Life.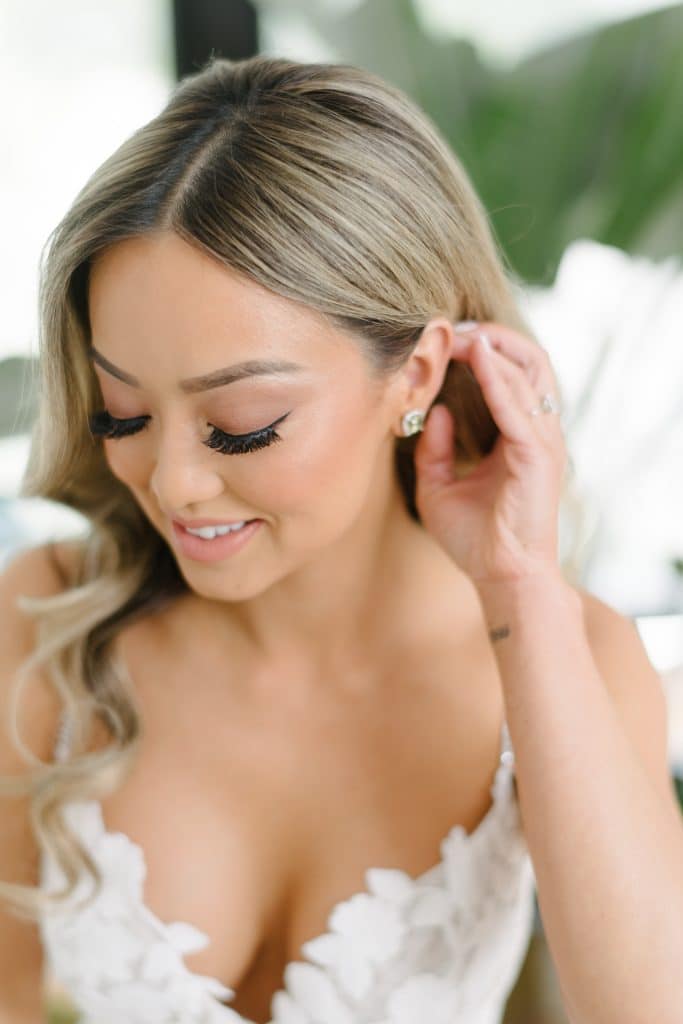 The cage was the centrepiece of the space, and we created everything around it. The gold cage stood 12 feet tall, with a swing inside and tropical plants surrounding it. Natural arches with moss and overgrown twigs lined the walkway towards the cage for the bride and for the guests.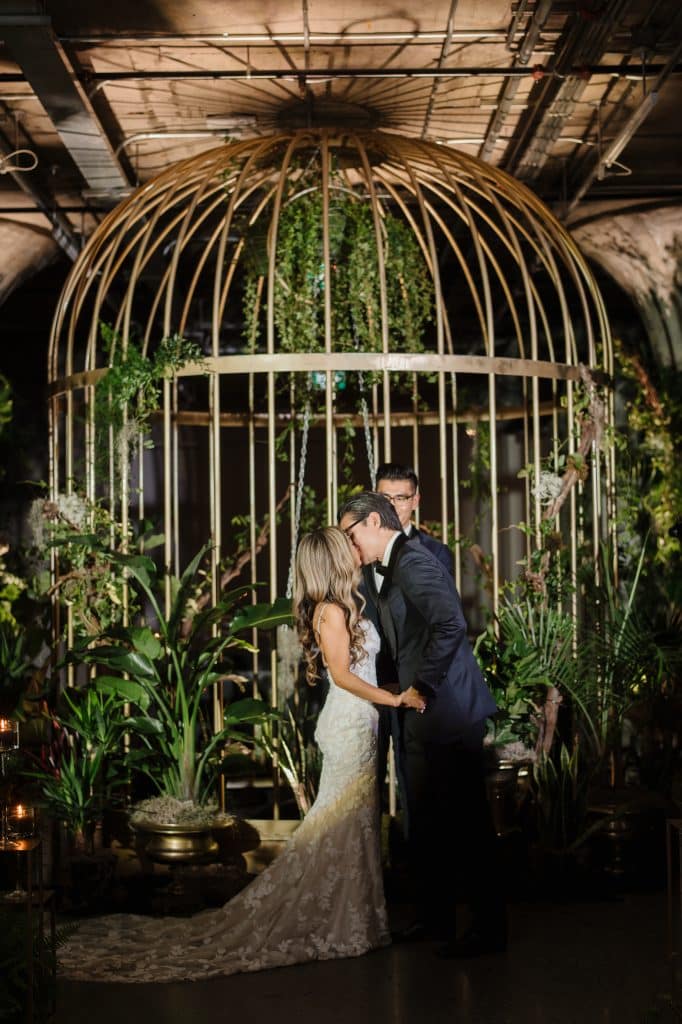 The cage sat in the middle of the venue's large concrete pillars which were covered with trailing greens and foliage, to mimic the look of it being an aged forest (like it had been there for decades).
Right as we began the ceremony, fog crept into the room preceding the couple's entrance. The room was dark, moody, and dramatic. It was just what the couple envisioned. The ceremony was only for family and intimate.
The bride did not want flowers, so we brought in LOTS of greenery to elevate the space and still feel lush and full. The bride's green bouquet was made to match all the foliage in the venue.
Black furniture was used to anchor the space, to give it a modern aesthetic. Two grey velvet couches flanked the cage for luxurious seating in the centre of the action.
When we were ready for dinner, we welcomed guests back into the main space where we had transformed it for the reception. Surrounding the cage were ample seating areas, cruiser tables and food stations.
The groom had originally wanted live butterflies and animals to surprise the guests. However we were not able to bring any in, so we got the next best thing – sultry cabaret dancers dressed in animal print. These dancers took their place in the cage and guests were greeted by a very unusual caged centrepiece as they walked in.
The bride and groom shared a first dance in front of the cage. Their siblings jumped in at the end with confetti poppers, and the cabaret dancers did a final performance in their LED wings to open up the dance floor. A glow station offered guests glow sticks and glow glasses for some extra fun.
Melissa and Justin from james frodyma on Vimeo.